THE BRAND
From the cobbled streets at Christinanshavn to the workshop in the centre of the city. From the bench in the park to the hot cafes. NORDENSTAM is a Danish jewellery brand located in the heart of Copenhagen. My mission is to design jewellery that suits women of all ages – jewellery I want to wear myself. It is important to me that the jewellery allows you to express balance, courage, and individual personality.
NORDENSTAM is handmade jewellery that can be worn in everyday life – my inspiration is found in my surroundings: The Scandinavian light, the Copenhagen architecture, the power of nature, and movements. NORDENSTAM is jewellery that is simple, honest, sophisticated, and with a characteristic graphic background – understated. Picture minimalistic and timeless design.
It is essential for me that all materials are carefully selected with love and the greatest care. This means that only the very best handmade jewellery of the finest quality, made at my workshop in Copenhagen, leaves my hands (and heart) to yours.
ENGAGEMENT AND WEDDING RINGS
HANDMADE – PERSONAL – GOOD QUALITY

The engagement ring and the wedding ring are unique pieces of jewellery and a lasting symbol of your history and love for each other. I make handmade jewellery that centres on the sharp and simple lines of my own designs, but I would always love to hear your ideas. The most important thing for me is that the jewellery has a personal expression of high quality.
The jewellery is made by hand because you need to be able to feel where they come from. The must be clear that the sender is you (and NORDENSTAM) and the jewellery will be designed based on your wishes. It must feel local and come from my small workshop, where you always have the opportunity to make changes and get a piece of jewellery exactly as you want it.
The classic and traditional methods within the goldsmith profession are used when the jewellery is made. I have respect for the materials as well as the craft and I immerse myself in the processes down to the last detail. The engagement and wedding rings are made of pure, precious materials. If you wish to have stones in the ring, you can choose between diamonds and sapphires in different colours and sizes. You also have the option of getting one or more stones in the ring afterward. Maybe as part of a celebration of an anniversary or another memorable occasion – or maybe just because you want to renew the look of your ring.
NORDENSTAM always provides you the service of having the stone or stones in the ring checked once a year, to ensure that they fit as they should. Also, I always offer maintenance of the rings so you can have them cleaned free of charge at my workshop.
MATERIALS
Solid 14k gold – White, yellow, and rose-pink – Stamped with 585N
Sterling silver – Stamped with 925N
Gemstone – Diamond, Sapphire, Ruby, Emerald
Semi-precious stones – Holistic collection and collaborations
Pearls – Natural colours; Cultured freshwater pearls, Akoya, Keshi, Tahiti and South sea.

If you have any 14k or 18k gold that you want to revitalize, it can be remelted and used for engagement rings and wedding rings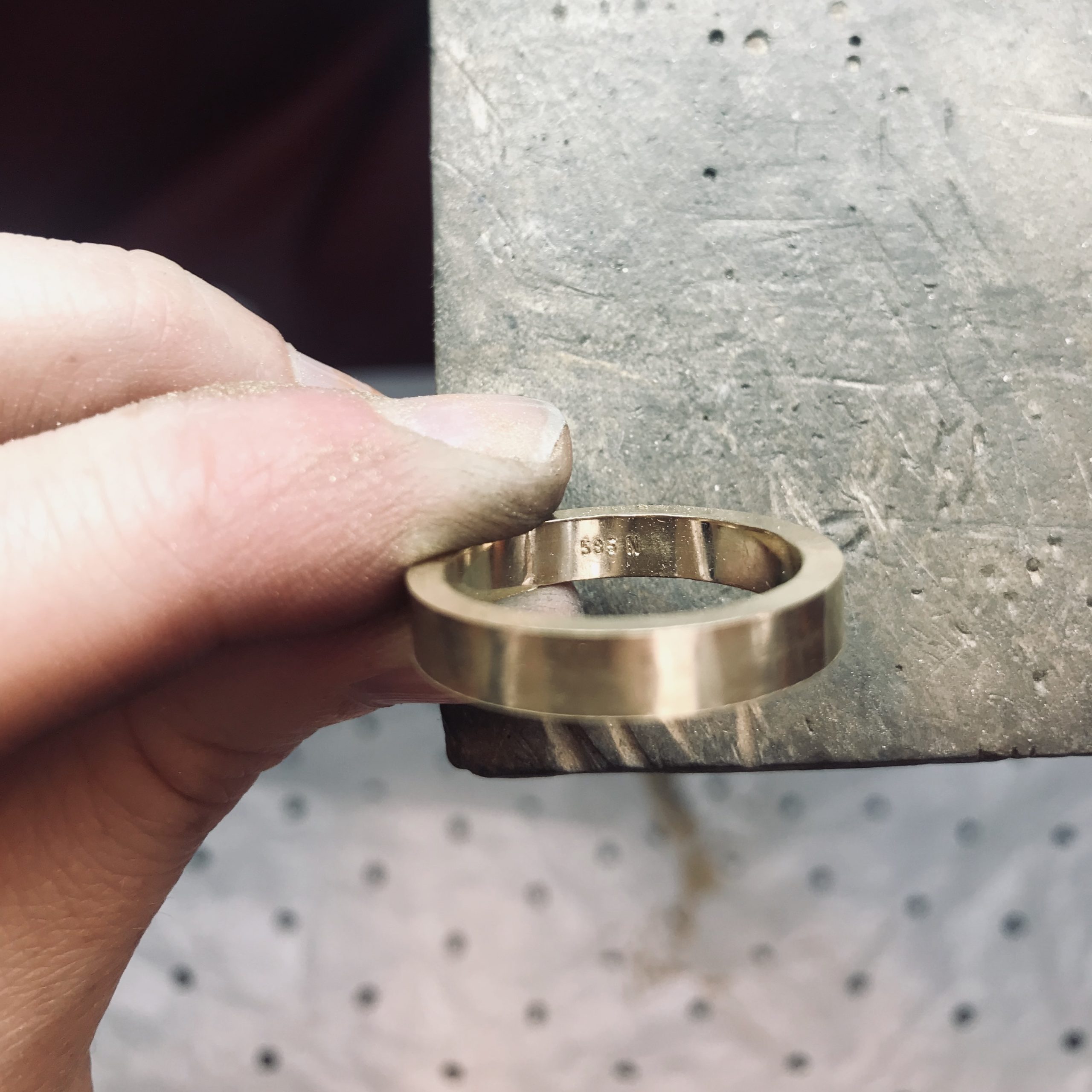 Nordenstam's stamp is a simple N, as you can find on all Nordenstam jewellery.
Solid 14k gold, stamped with 585N


Solid 8k gold, stamped with 333N or NN


Sterling silver, stamped with 925N
With the N stamp, you as a customer can be absolutely sure that the material is genuine and that it keeps its purity, i.e. in gold, for example – that it is the carat that the piece of jewelery is sold as.
Force Technology tests the Danish jewelery annually, so that you as a customer can be safe and secure in quality.


The N stamp has been registered since 2010, at Force Thechnology i Denmark.
NATURE RING
One-of-a-kind
Made of recycled gold

Hand melted
SUSTAINABILITY
RECYCLING OLD GOLD – CONSUMER BEHAVIOUR – LIMITED NUMBER OF PRODUCTS
As a jeweller, accountability for materials and production is a moral obligation, if you ask me. The jewellery is made from scratch and in a limited number to eliminate overproduction.
At NORDENSTAM, you can extend the life of some of your old jewellery that has ended up at the bottom of the jewellery box – you can give your old gold new life. In terms of sustainability and the environment, it is obvious to use the gold and silver that are already in circulation rather than burdening nature any further by extracting new gold and silver.
Many customers already choose to have their old jewellery melted into new ones, which I as a jeweller have a lot of respect for, as this way of thinking corresponds with the responsibility, we all have for the world we live in and must remember to take care of. In addition to gold and silver, materials such as diamonds can also be recycled.
NORDENSTAM sells a selection of vintage diamonds. The vintage diamonds are sustainable as they are recycled and upcycled by being cut from a larger diamond that has been damaged, and thus that very diamond turns into several smaller diamonds.
If you have a wish for a very specific or special vintage diamond, I will do my research and try to fulfil your wish. NORDENSTAM sells a small selection of colours which are continuously updated with various selected colours. Most often, this concerns natural shades such as green, yellow, and grey. Furthermore, it is also possible to choose natural grey, the so-called Salt & Pepper brilliants or natural green brilliants.
NATURE RINGS
The Nature ring is a unique work of art and comes in different shapes, thicknesses, and ring sizes. Organic, timeless, and most of all good craftsmanship. The Nature ring is made of either old silver or gold that is recycled and melted in moulds made of coal. The organic structure is created in the melting process itself, where the ring is formed by the liquid mass of metal, which provides a polished surface and at the same time creates the structure in the ring. I strive to create a consistent expression, despite coincidences in the melting process.
You can see the rings at NORDENSTAM's workshop in Copenhagen. If you are lucky, the perfect size, design, and desired shape is already created. Moreover, you are always welcome to order a ring according to a specific wish on the look and size of the Nature ring – I will do my very best to fulfil your wishes.
If you have old gold or silver at home, it can be recycled into a new Nature ring for you or someone you love. Otherwise, the Nature ring is made from all the small remnants of gold I have left in the workshop. I look forward to having you on the journey of a recycle collection that is constantly expanding with new styles such as earrings and pendants.
NORDENSTAM x CALMLISH
The collaboration with Calmlish is based on the notion of zero waste. The jewellery collection is designed by NORDENSTAM, where semi-precious stone crystals from destroyed gua sha are recycled, as well as other beauty tools sold at Calmlish.
A contemplative world of enchanting shapes and wonderful colours. The recycled semi-precious stone crystals have become part of NORDENSTAM's original Glow collection, where all the jewellery is unique and handmade. The collection currently consists of rings and ear studs in silver and oxidised silver. NORDENSTAM is continuously developing several styles and it is also possible to order a customised piece of jewellery, which includes the beautiful crystals. Be aware that all the jewellery is unique and therefore there are variations in colour and shape.
THE HISTORY OF NORDENSTAM
NORDENSTAM is a love story – love for my husband and love for my fascination with good craftsmanship and quality. NORDENSTAM has its roots in Copenhagen and the city's vibrant life. My Scandinavian heritage is fundamental in my design, as I was born and raised in Sweden but have chosen to settle in Denmark.
For many years I have had a passion for music and records – a passion I share with my husband who is a musician. Our story started with an exchange of letters and records between Sweden and Denmark back in 2002. In 2010, I married my husband, and we chose Nordenstam as our common surname – the fact that we are both from the North also embraces our beautiful common history. This was also the year I finished my training as a goldsmith. It felt so natural that my brand, which was founded that same year, should have the name NORDENSTAM.
NORDENSTAM's logo comes from my first assignment at the jewellery school in Copenhagen – the stylistic butterfly. A stamp had to be designed within two days and not until the evening before hand-in did a satisfactory result appear on paper. There were many thoughts and creative processes behind the design of the stamp. Seeing the minimalist lines, that shape the butterfly, become an 'N' made everything line up and I had a feeling that it was the perfect signature for the NORDENSTAM universe.