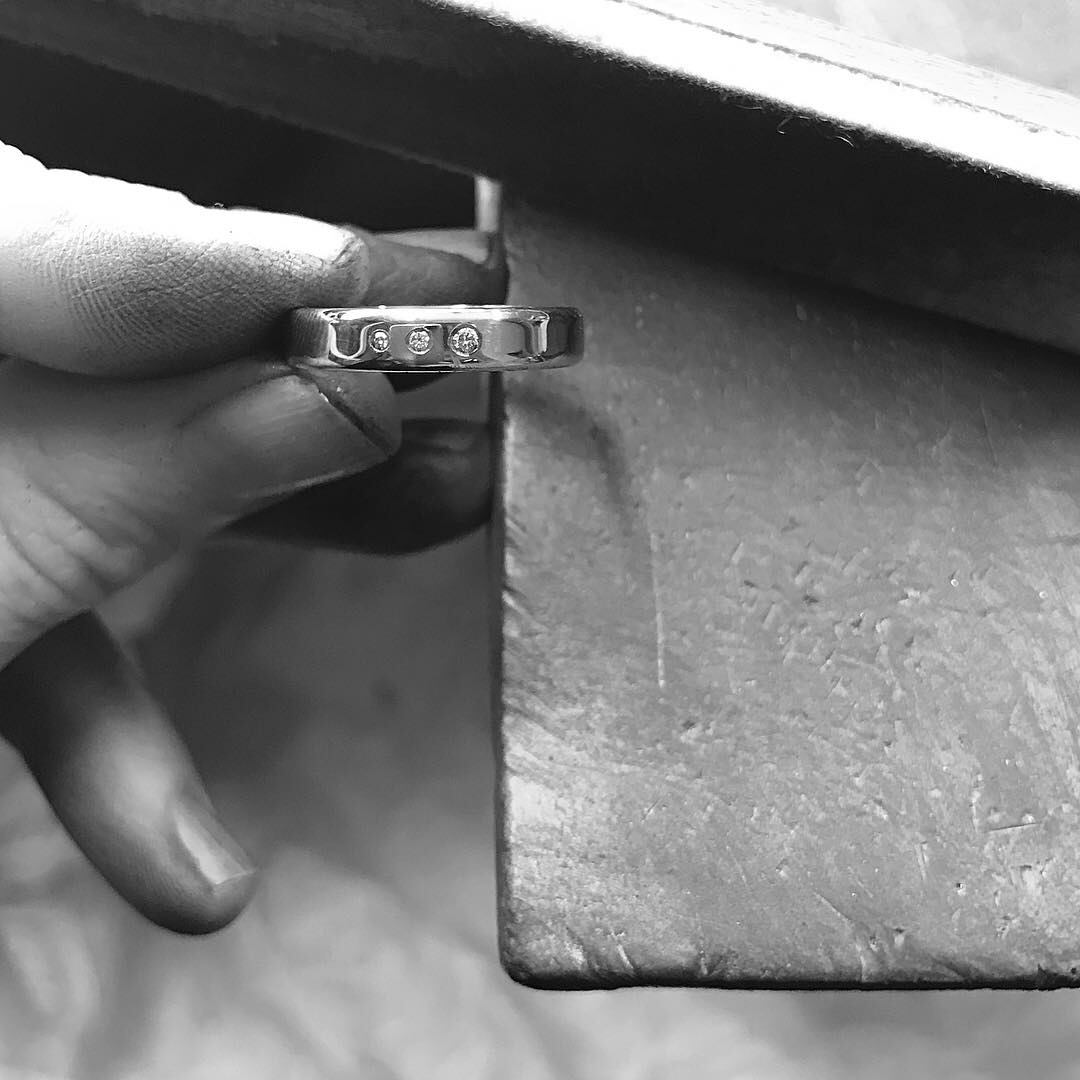 At NORDENSTAM, you can extend the life of some of your old jewellery that has ended up at the bottom of the jewellery box – you can give your old gold new life.
In terms of sustainability and the environment, it is obvious to use the gold and silver that are already in circulation rather than burdening nature any further by extracting new gold and silver.


It is essential for me that all materials are carefully selected with love and the greatest care. This means that only the very best handmade jewellery of the finest quality, made at my workshop in Copenhagen, leaves my hands (and heart) to yours.


Please do not hesitate to contact us for any product inquiry or to book a private appointment in our showroom. You are always welcome to visit the studio, for a jewellery talk about your wishes and customised jewellery dreams.



I would love to hear your ideas:
ENGAGEMENT AND WEDDING RINGS
HANDMADE – PERSONAL – GOOD QUALITY



The engagement ring and the wedding ring are unique pieces of jewellery and a lasting symbol of your history and love for each other. I make handmade jewellery that centres on the sharp and simple lines of my own designs, but I would always love to hear your ideas. The most important thing for me is that the jewellery has a personal expression of high quality.


The jewellery is made by hand because you need to be able to feel where they come from. The must be clear that the sender is you (and NORDENSTAM) and the jewellery will be designed based on your wishes. It must feel local and come from my small workshop, where you always have the opportunity to make changes and get a piece of jewellery exactly as you want it.


The classic and traditional methods within the goldsmith profession are used when the jewellery is made. I have respect for the materials as well as the craft and I immerse myself in the processes down to the last detail. The engagement and wedding rings are made of pure, precious materials. If you wish to have stones in the ring, you can choose between diamonds and sapphires in different colours and sizes. You also have the option of getting one or more stones in the ring afterward. Maybe as part of a celebration of an anniversary or another memorable occasion – or maybe just because you want to renew the look of your ring.
NORDENSTAM always provides you the service of having the stone or stones in the ring checked once a year, to ensure that they fit as they should. Also, I always offer maintenance of the rings so you can have them cleaned free of charge at my workshop.

I design and make the wedding rings individually each and every time, handcrafted from my hands to yours.

Here is the process behind wedding rings in the workshop:
Contact me and we find a day to meet at the workshop studio. We´ll have a jewellery talk about your ideas, wishes and dreams, any deadlines or possible budgets. You will see some of the prototypes, and we talk about shapes, thickness/sizes, designs, and measure your ring size.
I can make some ring sketches with your wishes, and also if necessary a prototype in silver of your favourite one. I will contact you with prices.
A fitting day is agreed. Here, final adjustments, engravings, surfaces and placing of any stones are decided.
We find a day you come by to collect your handcrafted wedding rings. With best wishes for a wonderful wedding day.


If you have any questions you are always very welcome to contact me: hello@nordenstam.dk

Inspiration:
instagram #nordenstamjewelleryweddingrings #nordenstamjewelleryengagementring #nordenstamjewellery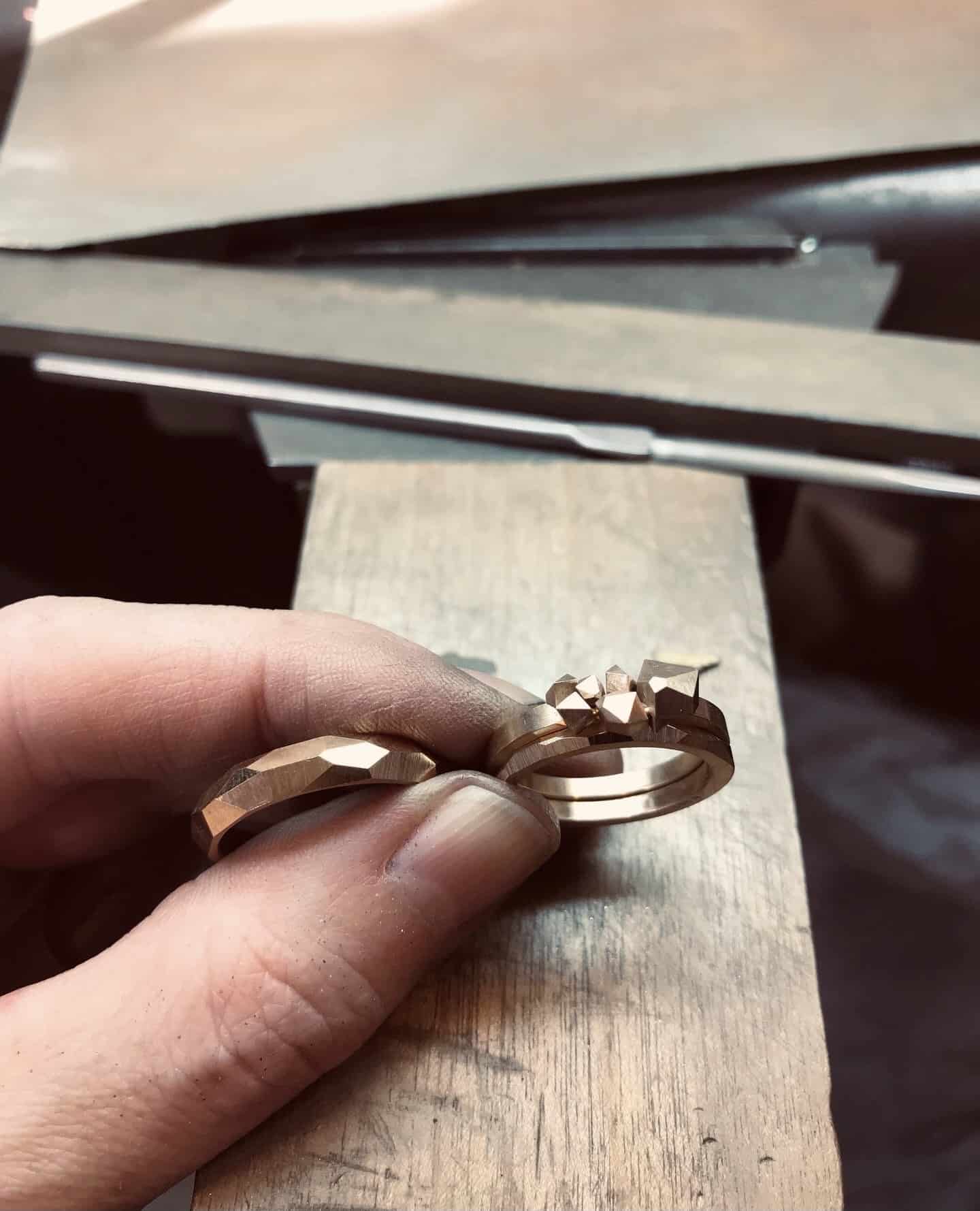 FACET RING RECYCLED 18K &
PIXEL DIAMOND CUT RING 14K
Bespoke wedding rings
One-of-a-kind
Handcrafted
Please do not hesitate to contact us for any product inquiry or to book a private appointment in our showroom.